About the creation of AQUAROPA
AQUAROPA is a new combination of fun park, obstacle course and water park. What makes it so special is the patented floating technology, which allows AQUAROPA to be used in all kinds of standing water. AQUAROPA is made in Austria, stands for European engineering and was designed to bring joy to many people around the world. Why? Because it's an adventure!
The inventor of AQUAROPA …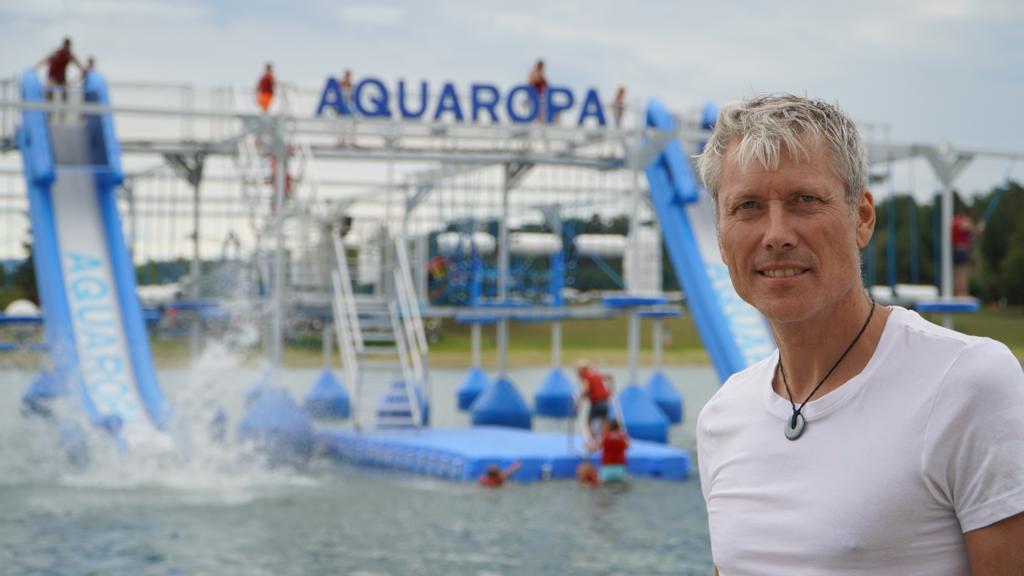 … is Reinhold "Reini" Bauböck. The experienced extreme athlete and adventurer is considered a pioneer in the field of trend sports. Moreover, he is a big fan of water sports. AQUAROPA is his first project on water, but not the first leisure facility that has emerged from his visions. Reini runs various facilities including the largest high ropes park in Europe, which is located in Saalbach, Austria. Hence, creating attractive leisure offerings is not new to him. And yet Reini is always kicking new ideas around to provide his guests with unforgettable experiences – whether in the forest, in the air or on the water.
The time is ripe for AQUAROPA!
The idea for AQUAROPA is now more than 10 years old. Exciting side fact: The concept was born long before the Ninja Warrior TV shows came to TV, making obstacle courses famous. But as we all know: Good things take time After years of development and the process of patenting the swimming technology, AQUAROPA is now ready for the world – for lakes, seashores and pools. We are excited to see where we will build our ninja parks!
Why AQUAROPA is the ideal investment
Target-group-oriented, flexible, environmentally friendly
AQUAROPA is the perfect leisure facility if you want to offer fun, action and entertainment to the widest possible target group. This mobile sports facility has numerous advantages over other fun parks: from cost-effective operation to durability to countless marketing opportunities. As a novelty in the field of fun and trend sports, AQUAROPA provides a USP and thus an upgrade for every location.
AQUAROPA – quality made in Austria
AQUAROPA stands for European engineering that was created for the world. Only materials of highest quality are used for the mobile construction. They meet the highest safety standards and are characterized by durability both in fresh and salt water. Another important quality feature: AQUAROPA is TÜV-certified. And thanks to its sophisticated modular design, the ninja park copes with a wide variety of local conditions and can be installed in small swimming ponds as well as on the seashore.
12 reasons for AQUAROPA – from an operator's point of view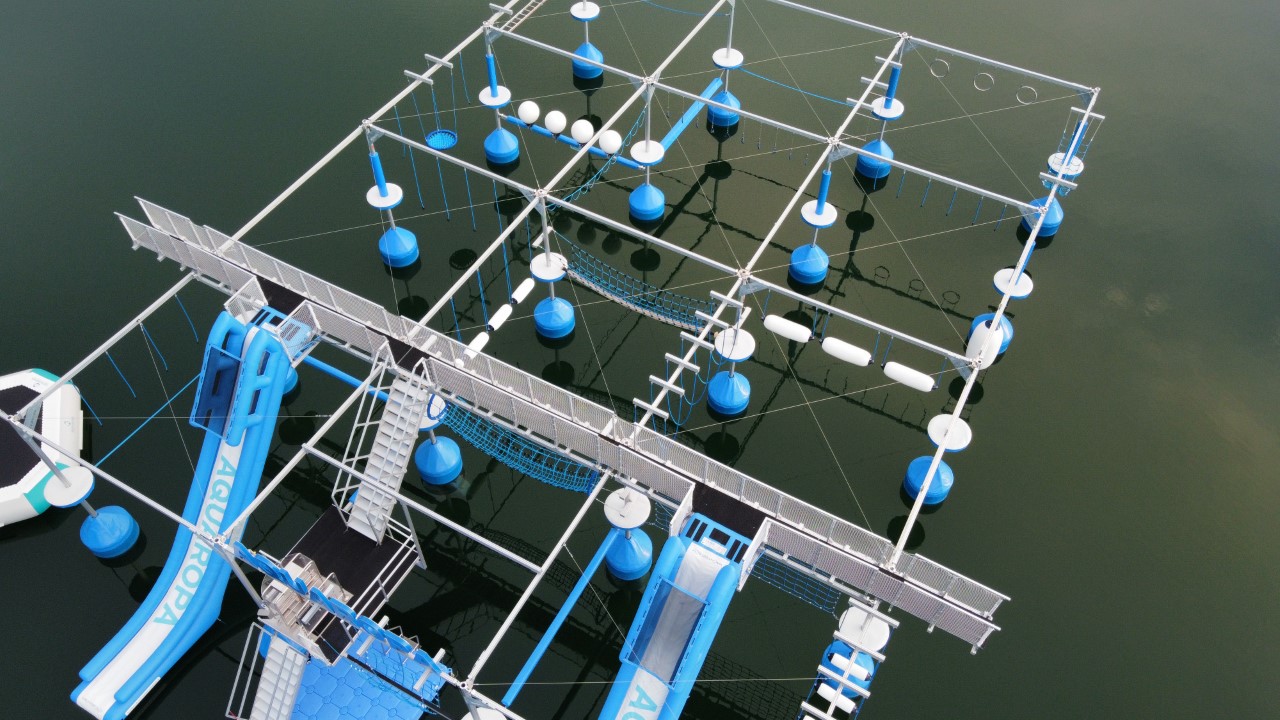 1) Individual and target-group-specific
Since AQUAROPA allows you to flexibly combine various ninja obstacles, the park can be designed in different sizes, shapes and difficulty levels. Simple courses are more suitable for locations where families are the main target group. But when your guests seek action, for example in recreational or wakeboard parks, the obstacles may well be more challenging.
2) Continuously expandable
The smallest possible AQUAROPA requires a water surface area of 8 x 8 m and a water depth of 3 m. The park can be continuously expanded with new ninja obstacles and thus adapted to individual requirements.
3) Stable investment or leasing option
AQUAROPA is an extremely durable facility: the quality of its materials has highest priority. Hence, AQUAROPA is an investment for many years. Also leasing options are possible. Due to the stable value and mobility of the construction, the park can be resold or moved to other locations, if required.
4) Low running costs
AQUAROPA does not require any energy. Depending on the location and pricing model, personnel may be required for supervision and access control. Apart from that there are no running costs, and maintenance costs are also low.
5) Mobile sports facility
AQUAROPA is classified as a mobile sports facility because it does not require anchoring in the ground. This brings two advantages: no damage to the ground and a simplified approval procedure.
6) Ecofriendly alternative to adventure parks
As already mentioned, AQUAROPA does not require any energy during operation and is therefore an environmentally friendly, emission-free alternative to amusement and adventure parks as well as water sports such as jet skis, water skiing and the like.
7) Flexible pricing
AQUAROPA can either be a fee-based facility or an included leisure offer. Pricing is up to the operator and completely flexible. For example, hourly, daily and seasonal tickets as well as special group prices etc. are possible.
8) High capacities
Compared to many other leisure and water sports facilities, AQUAROPA can cope with high capacities: Depending on the size of the ninja park, between 20 and 150 guests per hour are possible.
9) Suitable for groups: from teambuilding to school trips
Visiting AQUAROPA is just as much fun alone as it is in a big group. Specific offers including booking the whole park exclusively – for example, for birthday parties, stag and hen parties, school trips, club activities or teambuilding for companies – are no problem at all.
10) Space for events
Looking for a possibility to arouse attention for the facility? AQUAROPA is the perfect venue for events of all kinds – for example, long ninja nights, competitions where individuals or teams (families, clubs, companies etc.) compete against each other, show races with celebrities or teambuilding workshops.
11) Instagramability
AQUAROPA is a facility that inevitably attracts a lot of attention. It allows for action-packed images and videos and provides a high level of emotionalization – all the essentials for great social media content.
12.) Low-risk and TÜV-certified
AQUAROPA was designed according to the greatest possible safety standards. For example, the obstacles are padded and the drop heights are low. Of course, the facility is TÜV-certified. Nevertheless, wearing a life jacket is recommended.
Interested? We are looking forward to informing you personally!

Call: 0043.660.7355491 or send a Whatsapp message: 0043.660.7355491 or write an e-mail to: info@aquaropa.com
Running AQUAROPA: where and how?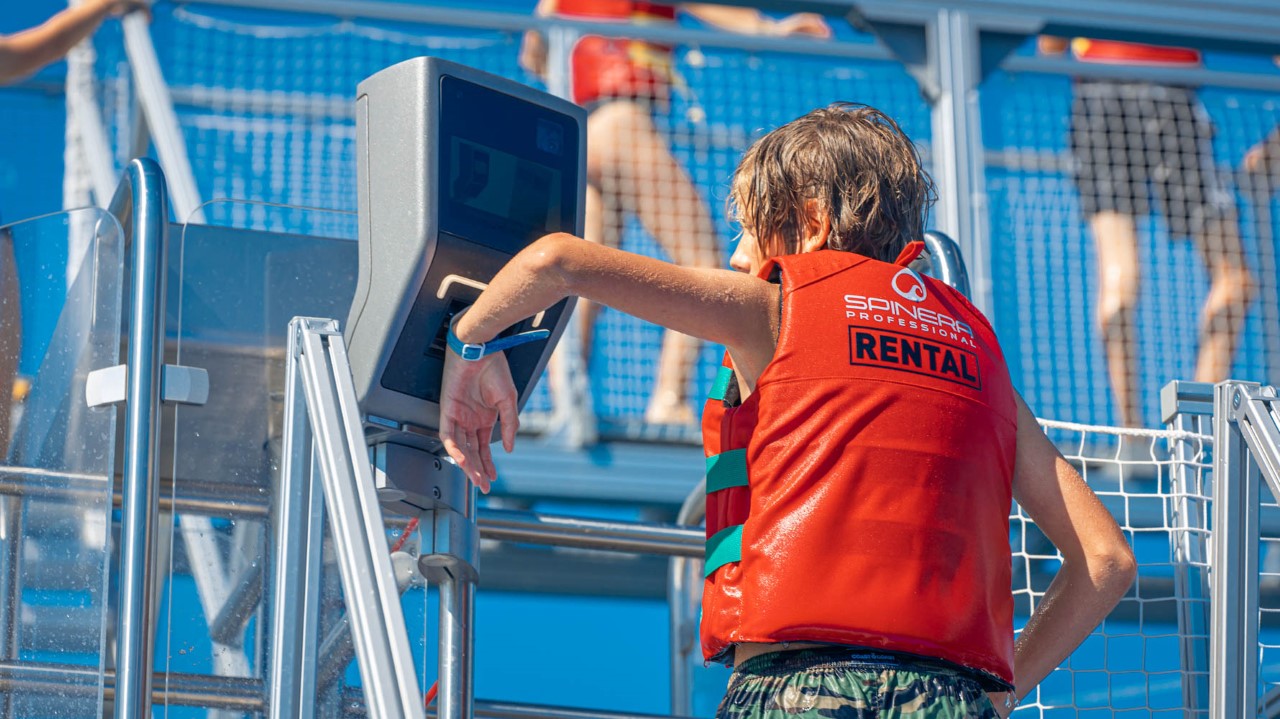 Mobile sports facility for waters
AQUAROPA is a mobile sports facility that is fixed but not anchored to the ground. The system is completely floating and therefore does not affect the environment. No energy is required to run the facility, making AQUAROPA an eco-friendly alternative to other water sports activities. The individual elements are designed for maximum safety and durability. The materials are resistant to weather and UV radiation and were created for outdoor use – both in fresh and salt water. This means that AQUAROPA can be installed in almost any standing body of water with a minimum water depth of 3 m – be it the local bathing lake, the sea or a pool.
The requirements at a glance
– Body of standing water – lake, sea or pool
– Water depth: min. 3 m
– Wave height: max. 1 m
– Area: min. 8 x 8 m
– Permit for mobile sports facility
Possible locations/operators
AQUAROPA can be an attractive stand-alone leisure facility, but also fits perfectly into existing infrastructure such as public beaches or leisure parks. The smallest version of the ninja park is 8 x 8 m – various extensions are possible any time.
Recommendations for safe ninja adventures
All AQUAROPA facilities meet high safety standards. This includes the padding of the obstacles and low drop heights. In contrast to high ropes courses, a safety system with wire rope and climbing harnesses is not required, nor are helmets and wetsuits. However, we recommend the requirement to wear a life jacket for all guests. Swimming skills (at least 25 m in deep water without problems) are also required. The age limit is 6 years – however, we recommend that children are accompanied by an adult supervisor. Of course, it is up to each operator to determine safety guidelines and age limits individually.
Optional: Access control with RFID wristband
Each operator can individually determine how access to the facility is managed. Also concerning pricing, all options are given – from offering AQUAROPA as an included service for guests to hourly tickets to season tickets or group rates. Particularly at highly frequented locations, access control by means of an RFID wristband is a convenient solution: Within the validity period, guests are allowed to re-enter the course as often as they like after falling or jumping into the water.
Sounds exciting? Let us inform you about all details!
We are looking forward to answering any questions personally and providing you with additional materials, calculations and marketing ideas!
An investment that is worthwhile and fun!
Become an AQUAROPA-operator now!

Whether water park, bathing lake or hotel resort by the sea – AQUAROPA is the perfect investment for all those who want to offer a new, extraordinary sports facility to a broad group of visitors. One thing is certain: AQUAROPA will attract attention. Live on the spot as well as on social media.
AQUAROPA is a promising upgrade for existing infrastructure such as bathing lakes or amusement parks, but also an attractive stand-alone solution for fresh and salt water. Sounds exciting? It is! We would be happy to inform you!
We are looking forward to answering any questions personally and providing you with additional materials, calculations and marketing ideas!
Service hotline in German and English: +43 660 7355491
AQUAROPA tradeshows 2022/2023
Sun Beach & Outdoor

Rimini, ITALIA

12.10.-14.10.2022

Family Attraction Expo

Birmingham, UK

02.11.-03.11.2022

IAAPA Expo Europe 2023

Vienna, AUSTRIA

26.09.-28.09.2023

Family Attraction Expo

Birmingham, UK

15.11.-16.11.2023
Let's plan your individual AQUAROPA ninja park! #beaninja